Smoke Transport and Fire Weather Climatology Dashboard
Clients
Desert Research Institute
California Department of Forestry and Fire Protection (CAL FIRE)
Prescribed fires are one of the most effective tools to reduce the buildup of hazardous fuels (vegetation) that are contributing to severe wildfires in the western U.S. In the coming years, California is expected to significantly increase the use of prescribed fires. Any vegetation burning emits smoke and harmful air pollutants; however, prescribed fires can minimize smoke impacts on downwind air quality, especially in comparison to uncontrolled wildfires. To conduct prescribed fires effectively, land and air quality managers need information and tools to support smoke management.<br>

In this project, funded by CAL FIRE, Sonoma Technology has partnered with the Desert Research Institute to develop a turnkey decision support tool for prescribed fire planning and wildfire response. The tool will allow users to specify a time window and location for a planned prescribed fire or current wildfire, and instantaneously view the probability of downwind smoke impacts and smoke weather statistics based on 20 years of climatological data.<br>

Tool development involves hourly air parcel trajectory modeling at a fine spatial scale for <a href="https://cansac.dri.edu/" target="_blank">California and Nevada</a href> using high-resolution (2 km) meteorological data from 2001 through 2020. Modeling results will determine the probability of air parcel transport from any location within California for multiple time scales (e.g., week, month). A geospatial risk score will be generated by integrating air parcel transport probabilities with population data and other relevant information (e.g., school and hospital locations). Historical statistics of weather parameters relevant to fire and smoke conditions (e.g., relative humidity, temperature, mixing height) will be developed from the climatology for any given location in the domain. The trajectory modeling and climatological analysis outcomes will be implemented into a simple and interactive online dashboard. Air and land managers can use the dashboard to plan prescribed fires, which will allow for more timely public messaging regarding potential smoke impacts and proactive mitigation efforts to assist at-risk populations.

Air Quality
Climate
Fire and Smoke
Policy and Planning
Public Outreach
Software Development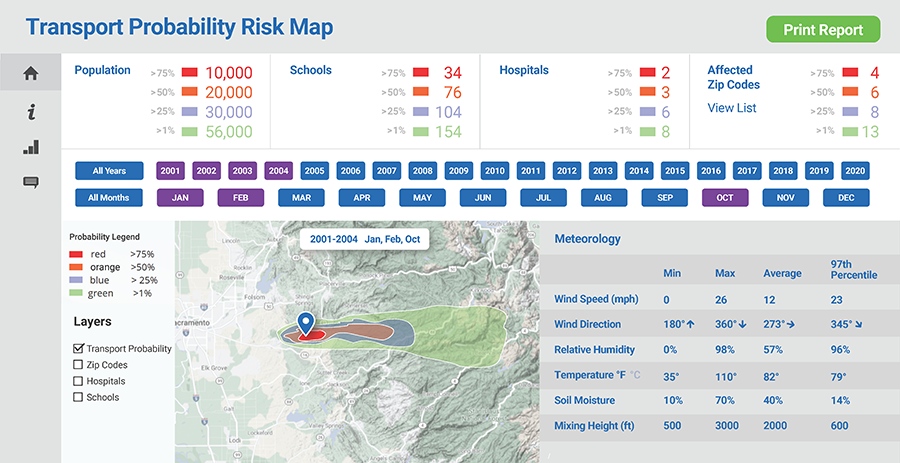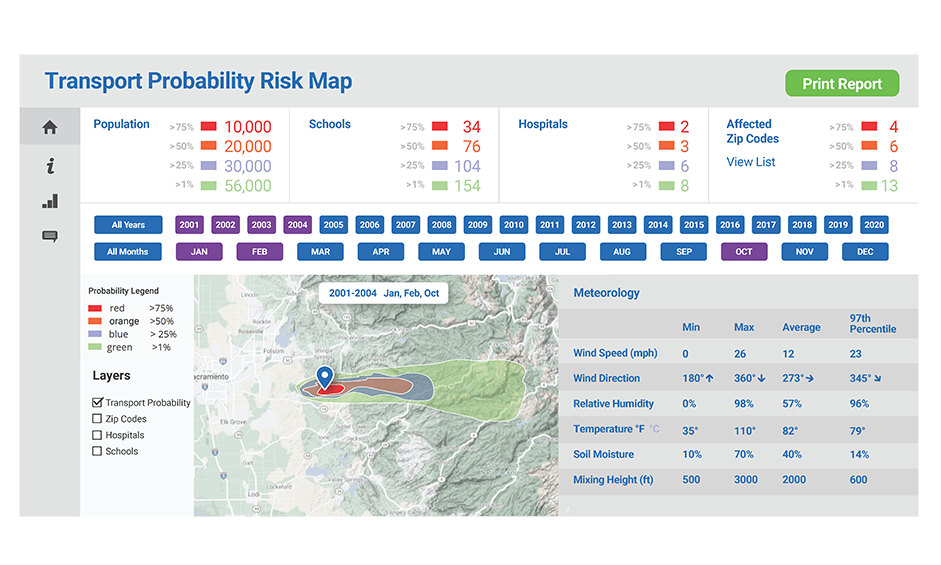 Manager, Wildland Fire and Smoke Program / Senior Air Quality Scientist
shuang@sonomatech.com
/sites/default/files/2023-03/SMHres.pdf